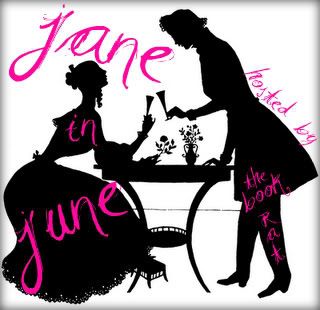 Hey everyone! I hope you all had a fabulous Memorial Day weekend and that everyone got a chance to spend time with family, relax at a cook out and reflect on what this holiday means to them. Personally, I can't believe that June starts tomorrow. As you all have seen, May has been a somewhat quiet month around here in terms of reviews. Thankfully I was able to spend several hours this weekend lounging and got a couple of books read. I admit that I'm actually taking three weeks out of June for various visits and vacations to spend time with family and friends before going off to grad school in the fall, so I will be busy traveling and hosting guests. However, I have tons of awesome content planned for the blog!
Many of you probably know the blog
Book Rat
, which is run by the amazing Misty. If you're unfamiliar with her blog, be sure to stop by and visit ASAP, because it is seriously awesome. For the second year in row, Misty will be holding an event called Jane In June, which is essentially an entire month dedicated to Jane Austen and adaptations and spin-offs of her work. Being the Austen addict that I am, I'll definitely be participating! I'll be starting off the month by posting my thoughts on the first seventeen chapters of
Pride and Prejudice
tomorrow as part of the
read-a-long
. You can also expect to see reviews of Jane Austen's
Emma
and Elizabeth Eulberg's
Prom and Prejudice
, Adaptation Corner posts, three awesome (if I do say so myself) giveaways and tons more. There will be a little something for YA lovers and non YA lovers alike. However, before this year's Jane In June officially starts, I wanted to give you all the chance to read my posts from last year, so you don't think I left anything out :)
Why I Love Jane Austen
Review of Pride and Prejudice by Jane Austen
Adaptation Corner: Pride and Prejudice
Review of Northanger Abbey by Jane Austen
Dear Jane Letter
Get ready fellow Austen lovers, as this month is going to be a blast!