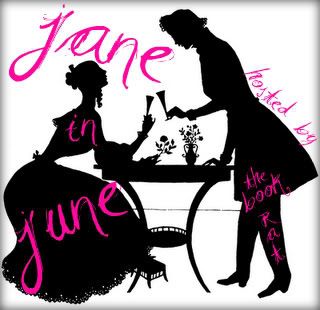 As many of you know, Misty of Book Rat will be holding Jane In June again this year. Fellow lovers of YA, I want you to be prepared, so thanks to the wonderful people at Big Honcho Media I have to copies of Elizabeth Eulberg's latest novel,
Prom and Prejudice
, to give away. If you don't know much about the book, check out the book summary and trailer below.
Lizzie Bennet, who attends Longbourn Academy on scholarship, isn't exactly interested in designer dresses and expensive shoes, but her best friend, Jane, might be—especially now that Charles Bingley is back from a semester in London. Lizzie is happy about her friend's burgeoning romance, but less than impressed by Will Darcy, a pompous jerk who looks down on the middle class. So imagine Lizzie's surprise when Will asks her to the prom! Will Lizzie's pride and Will's prejudice keep them apart? Or are they a prom couple in the making? From Elizabeth Eulberg comes a very funny, completely stylish prom season
delight of Jane Austen proportions
Elizabeth Eulberg was born and raised in Wisconsin before making a career in the New York City book biz. She is also the author of The Lonely Hearts Club and lives outside of New York City. Learn more at www.ElizabethEulberg.com.

You can visit her facebook page here.
Want to win? Check out the rules and enter the form below.
*Two winners, each of whom will receive one copy of Prom and Prejudice by Elizabeth Eulberg.
*Open to U.S. reader only.
*The giveaway ends at 11:59 p.m. CST on January 29th.