Hello everyone! I have several different things I'd like to briefly announce or bring your attention to, so I decided to tie them all into one post.
First of all, if you are here on the hop, welcome! For those of you who are unfamiliar with the Book Blogger Hop, it's hosted by Jennifer of
Crazy for Books
. To answer this week's question, my name is Liz, and I started my blog because shortly after joining
GoodReads
, I discovered that some of my friends, namely April of
Good Books and Good Wine
and Misty of
Book Rat
, had links on their websites, and lo and behold, these links were book blogs! Maintaining a blog and being a part of the community looked like a lot of fun to me, so I decided to start my own.
Second of all, I will be leaving for a family vacation in Maine starting next Tuesday, July 6th and returning home on Tuesday the 13th. My mother grew up in central Maine and nearly all of her family still lives there, so we go practically ever summer. I have included a very silly, squinty-eyed picture of me enjoying a past vacation for your entertainment. We will be staying in a place without internet, so this could mean that my updates will be less frequent in my absence and that I won't be on Twitter as much. I intend to spend part of my weekend scheduling posts. I will have someone keeping an eye on the blog just in case.
Third of all, later this month I will be participating in the
Got Books
event. The event will last from July 23-24 and is essentially a huge giveaway event throughout the blogosphere. I love giving books and bookish items to all of my readers and I'm pretty excited about the items I'm obtained for you all, so I'm really looking forward to this.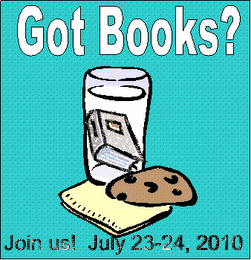 Fourth of all, while I'm already participating in
The Story Siren's
Debut Author Challenge
, I've decided to join two more. Jessica of
Chick Lit Teens
and author
Kay Cassidy
are hosting the 10 in '10 challenge, and the goal behind this challenge is to read 10 chick lit books in the year of 2010. I'm a little bit late in joining, but I actually intend to start out by reading
The Cinderella Society
by Kay Cassidy as it looks like such a great read.
I'm also joining the 2010 Summer Beach Reads Challenge, which is hosted by Jessica of
A Fanatic's Book Blog
, Heather of
A Bibliophile's Paradise
, Raila of
Books Out of the Bookshelves
and Linna of
21 Pages
. The goal is to read anything that you would gladly take to the beach for a day. The challenge lasts from July 1st-August 31st and there are four different levels participants can reach.
Levels: Remember swim classes? Thus our reading challenge levels!
* Tadpole - Read 4 books in this challenge.
* Minnow - Read 8 books in this challenge.
* Dolphin - Read 12 books in this challenge.
* Shark - Read 16+ books in this challenge!

My goal is to reach the Minnow level. I think I may count
The Cinderella Society
for this one as well, along with
Sea
by Heidi R. Kling.